In the Name of Allah, the Most Gracious, the Most Merciful
Asalaamalaikum(Peace be on you),
What's up y'all?
Why the laid back attitude?
It's the weekend!
How is life?
We are one week deep in October! And a wave of orange has painted my feed along with the dismal shock of realization dawning upon many that the year is inching close to an end.
You can't tell what fall is when you are in this part of the world, and this year around here, the rains seem to be in no mood to bid us farewell and the gray skies are a constant.
Enough weather talk, I don't know how I always end up talking about the weather.
Moving on, it's been forever since we talked about food!
I have come to realize that, after living in the city of Biryani for 3 years. I haven't spoken about what makes Hyderabad famous!
Hyderabadi Biryani aka Dum ki Biryani is the best Biryani you will have.
Now, I am really sorry for not having good pictures of Biryani that I had clicked, but turns out that I rarely clicked Biryani, maybe because the irrestible aroma overtakes and the only thing you do is dig in and nothing else! (Also, didn't want to postpone this any further till I clicked new ones)
So, what really puts this Biryani apart from the others?
Hyderabadi Biryani is basically different from the rest because the meat is not cooked separately before cooking it with the rice, the choice of meat is cooked raw together with the rice on low heat and from the steam from the cooking rice.
The result is a dish of aromatic Basmati rice and the tender succulent meat blanketed in piquant spices that entice the taste buds and offer an experience you cannot forget and only want more of henceforth.
It is also different because it is served not only with a yogurt chutney on the side but also a very rich and heavily spiced curry called 'Mirchi ka Saalan', which on it's own is a wonderful taste joy ride.
Flavor wise, I am not kidding but every Hyderabadi Biryani tastes different, no two Biryanis cooked by different people can taste the same and that amazes me to max!
Initially, I was very intrigued to try the slightly different tastes in the Biryanis made by different individuals, and would be excited when we would visit someone, because for every Daawat/Get-togethers or special occasions in Hyd, Biryani is an absolute must have.
And now, I know what different tastes to expect when we are visiting someone and hence, prepare my palette for the flavor explosions!
It is a universal established truth that everything else follows after your mum's version of a dish.
And just so, my Ammi's Biryani is my ultimate favourite version of the Hyderabadi Biryani.
I am not exaggerating when I say, that people in Hyderabad have Biryani atleast once in a week or two, you just have to or else there is a feeling of missing out that ensues.
Now, if you are visiting and aren't lucky enough to have homemade version of this delicacy, then there are plentiful options to satiate your want.
Being the city's symbol of representation, Biryani can be found selling on almost every street of the city, you wouldn't have to go a mile without a local restaurant offering the same.
The most favourite go-to for most tourists is the Paradise restaurant's Biryani, which claims to be famous among celebrities too. I have tasted their Biryani, and I don't know if it justifies the hype, but it's a tasty Biryani.
The next famous Biryani option is, Bawarchi. This Biryani hotspot is so famous that there are innumerable restaurants in the city with almost the same name. Now, I hate to admit that I haven't had the Biryani from the original outlet, but I have heard only good things.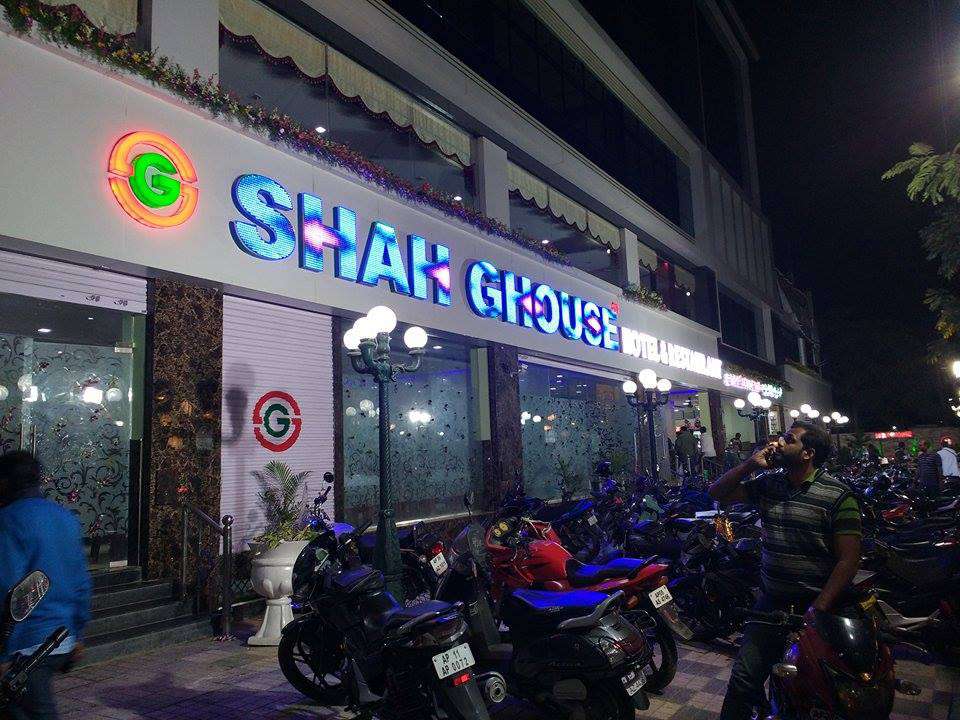 Now, getting down to our choice, when choosing to eat Biryani from outside, which happens to be, Shah Ghouse. Not only because it's close to my house, but also the taste is good. Their offering is a good take on the Hyderabadi Biryani and the bubbling crowd is a proof of that.
There are so many good options if you decided to dine outside for Biryani. There is Shadab, Sarvi, Hyderabad House, Rumaan, Mehfil, and the list could go on.
I should stop before my want for Biryani gets any stronger and I am unable to satisfy it.
So, when are you coming down to grab a bite?